At 10AM on Saturday, May 20, the Dallas labor movement begins the battle for people's success on the June 10 runoff election. Political Director Lorraine Montemayor asks us to bring our phones to 1408 N Washington Suite 240 just in case it rains too much for door-to-door canvassing. Sign up to let us know you're coming! 
                                                       Labor helped Councilman Adam Medrano get re-elected
Working people had great success in the first round of voting on May 6th, but the battle isn't over until final victory. The Dallas City Council is divided on major issues, Councilman Adam Medrano told us at the May 18 Central Labor Council meeting; consequently we need to put every labor-friendly candidate across the finish line!
Women's Rights Are Critical
During a time when Republican politicians are making particularly aggressive moves against women's rights in America, the labor movement is fighting back.
Labor delegates at the regular 3rd Thursday Central Labor Council meeting learned that the Amalgamated Transit Union Local 1338 will host the national conference of ATU Women's Caucus on June 22-25.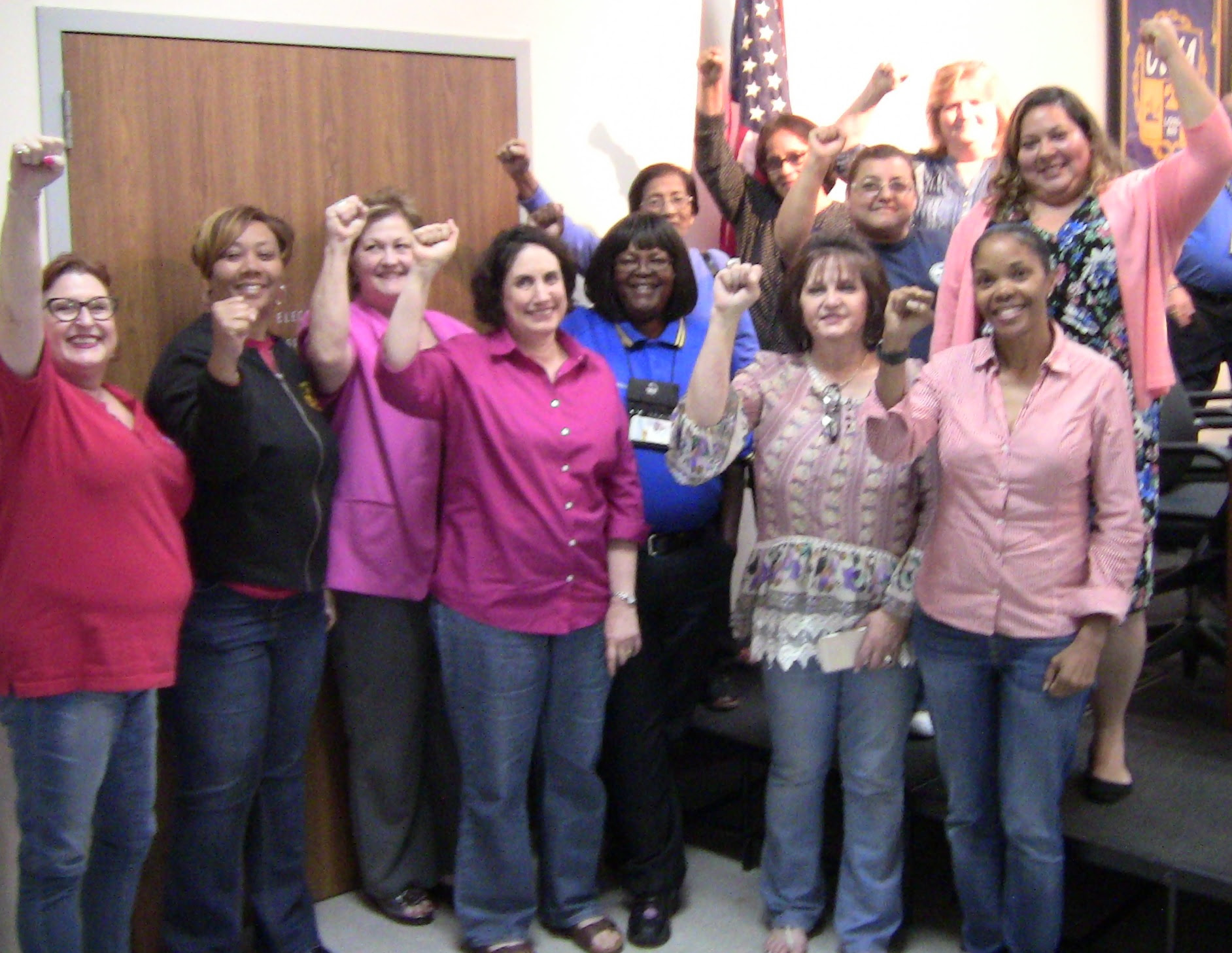 We also learned that the Coalition of Labor Union Women (CLUW) will hold a meeting at 6PMon June 13 at 1408 N Washington. President Sherron Molina encouraged both men and women trade unionists to join. New members pay only $35/year and retirees pay even less, she said.
The labor movement stands up for women's rights!
Success Breeds Success for Dallas AFL-CIO
At the regular 3rd Thursday meeting on May 18, labor delegates found out that workers in other areas are recognizing our good works. Elaine Adkison said that Project Phoenix, which helps first-time offenders get jobs and escape a lifetime of legal problems, has generated interest nationwide. President George Rangel said that our delegation to a special nationwide training session in Minneapolis received a number of inquiries about our policies and activities. Mark York added, "Most of the things that the other CLC's are talking about, we're already doing!"
Dallas labor boosted the Walmart workers organizing effort by attending a stopover of their national tour at Dallas City Hall on May 17. Our principal officer, Mark York, was joined by City Councilman Philip Kingston at the podium. A short video is available.  
Our Council is asking all affiliates and constituency groups to participate in a modern new Digital Organizing Committee that will be launched after the June 10 runoff election. Sign up here.
City Councilpersons Adam Medrano and Tiffinni Young were joined by County Treasurer Pauline Medrano in congratulating the Council on our electoral successes. Candidate Omar Narvaez made a passionate appeal for support. Both of the Medranos asked the Council to endorse Narvaez for City Council District 6 in the runoff, which prompted CWA member Bonnie Mathias to make a motion from the floor. The delegates agreed to support Narvaez. We were already committed to the runoff elections of Tiffinni Young in District 7 and Tennell Atkins in District 8.
School employees back Lori Kirkpatrick for Dallas School Board
Rena Honea, President of Alliance/AFT, the school employees union, encouraged everyone to work for Dr Lori Kirkpatrick for School Board in District 2. Kirkpatrick gave one of the best talks of the evening. She said that Dallas schools are "under attack." "I am adamantly opposed to any proposal that would take our tax money and give it to private entities," she said. She also spoke strongly against so-called "reform" policies that pit one teacher against another. She said that the turnover rate for Dallas teachers was already a disgraceful 21%!
Political Director Lorraine Motemayor received heavy applause for her work so far. She told the delegates that one big final push is necessary for a final triumph for working families. We start on May 20 at 10AM.
More Actions Coming Up
May 20, 10A: Dallas AFL-CIO gets out the vote. Meet at 1408 N Washington. Call 214-826-4808
May 20, 5- 9p: DFW Peace Rally at Dealey Plaza in Dallas, 400 Main St. 75201
May 20, 11A-7P: 2017 Malcolm X (Community)Festival at Pan-African Connection, 4466 S. Marsalis Ave., Dallas Texas 75216. Call 214-943-8262
May 24, 4:00P: Picket Congressman Hensarling, 6510 Abrams Rd #243, Dallas, TX 75231. Contact TOP 469-510-9069
May 24, 6P: Reception then free screening of "Thirty Seconds to Midnight" at the Angelika Theater in Dallas. Mockingbird station.
May 25, 6AM: Registration for Tarrant County AFL-CIO "Honorable Jim Wright Memorial Annual Invitational" at Diamond Oaks Country Club 5821 Diamond Oaks Dr, FW 76117. Info at 817-284-1461
May 26, 6-8P: Stories of Refugee Resettlement in Dallas at Emmett J. Conrad High School -Auditorium 7502 Fair Oaks Ave Dallas 75231
May 30, 7A: Early voting starts for June 10 runoff election
You can't go wrong when you Sign up with labor!